Once Honda's first snowthrower model, the HS35, demonstrated the effectiveness of its compact design, it was time to meet the market's demands for more powerful high-level models. In Japan, that also meant models better suited to the regionally unique characteristics of Japanese snow. This then became the start of Honda's challenge: To create compact snowthrowers that would be even easier to use.
The HS35 was a semi-automatic model that wasn't equipped with independent drive. Honda now devoted its attention to the drive unit. Independent control of the drive system was essential in unstable snowy environments that may not necessarily be flat. Easier speed control would also result in more efficient and compact snowthrowers that would be better able to do the job of clearing snow.
Usually a multi-gear transmission would be used to control the drive speed, but it's more difficult to easily and steplessly adjust the operating speed. Honda's response was to develop a new friction disk transmission mechanism that would be able to control not only the snowthrower's speed, but also both its forward and backward motion, by moving two disks positioned at a 90-degree angle to each other up and down together.
This new transmission was first introduced on the HS50, which debuted in 1982. Various design modifications were subsequently adopted, including a self-propelled type that incorporates crawlers, and a two-stage snowthrowing design that first collects the snow, then throws it. Honda's snowthrowers began to acquire a reputation for high performance, and from the mid-1980s onward the lineup was expanded to include both medium- and large-sized models.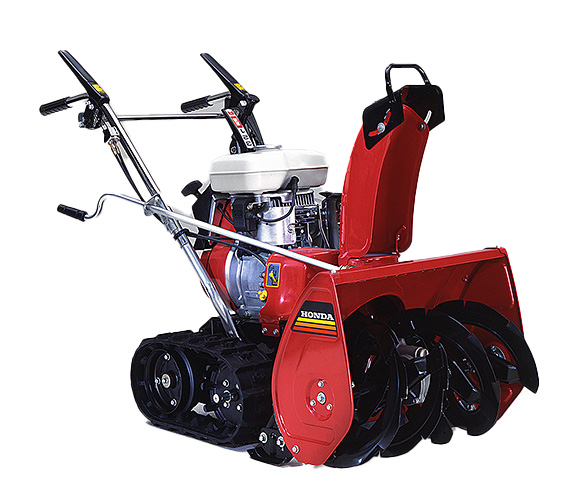 HS50